Evening Menu
Open from 8AM to Late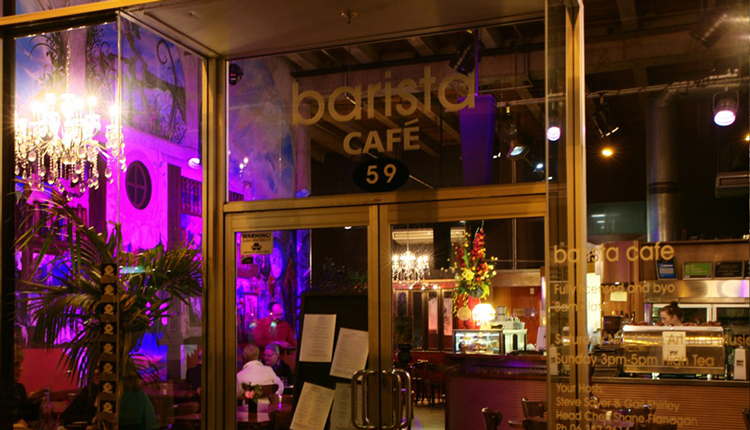 Entrees
Soup for One, or platters to share
Soup of the Day

$13


with toasted bread and butter

(GF)$14

Oven Toasted Pita

$12


with hummus and pesto
Barista Garlic Bread

$12


with garlic butter, herbs, mozzarella & sundried tomatoes

(GF)$13

Warm Olives

$15


With grilled haloumi and sesame seed flat bread lavosh

(GF)$16

Bruschetta

$16


Cherry tomatoes, avocado, labne, summer herbs on sourdough

(GF)$18

Cauliflower Cheese Fritters

(GF) $15


served with toasted almonds and harissa mayo
Salt & Pepper Prawns

(GF DF) $22


Barista's original – keep to yourself or share if you dare!
Light Meals
Beef Salad

(GF)$24


Marinated beef salad on greens with fresh pear, cherry tomatoes, blue cheese puffs, almonds and finished with a bacon mayonnaise
Chicken Salad

(GF DF) $24


wwith greens, toasted spiced pumpkin seeds, cherry tomatoes, avocado, Mangoes and a black vinegar, honey, ginger and sesame dressing
BBQ chicken linguine

$24


Chicken breast pieces in a spice rub, with bacon, sun-dried tomatoes and spinachin a cream reduction (GF option $25)
Capsicum Schnitzel

(GF) $23


Stuffed with haloumi in a golden crumb, with a raw salad of beetroot, carrot, chia seeds and apple
Salmon Fillet

(GF) $32


Served on served on spicy fried beans with yoghurt, avocado oil and an apple and fennel salad
Mains
Pan-fried Fish of the Day

(DF)$34


Served on courgette and lemon cakes, with a tomato and capsicum sauce and topped with saffron crème fraiche
Crispy Confit Duck Leg

(GF DF)$34


with a medium rare duck breast served with a warm salad of black pudding, pear, walnut & rocket with a cranberry dressing
Lamb Shortloin

(GF DF) $34


served with a warmed grain salad, baba ghanoush, roasted baby carrots & a capsicum sauce
Side Dishes
Roasted Potatoes

$8


tossed with fresh herbs & feta
Green Salad

$7.50


with cherry tomatoes and honey balsamic dressing
Seasonal Steamed Vegetables

$7.50


with hollandaise dressing
Greek salad

$10


with olives, feta, red onion, cucumber, cherry tomatoes, parsley and olive oil balsamic dressing
Desserts
*Tiramisu

$15


Traditional Italian style with coffee sponge fingers, shaved chocolate, mascarpone & cream
Crème Brulée

(GF) $16


with berry sorbet and creamy English Eton mess
Sticky Date Pudding

$15


Served with caramel sauce, runny cream, and vanilla bean ice-cream
Ice-cream Sundae

$11


Your choice of chocolate, caramel or berry sauce served with marshmallows & whipped cream
Cabinet selection of Cakes, Slices or Baked New York Cheesecake Or ask for Barista's Gluten and Dairy-Free options
Cheeseboard

$25 for 1-2ppl or $33 for 2-4ppl


A selection of brie, aged cheddar & kikorangi blue, served with fruit bread,crackers and dried fruit
Affogato (non-alcoholic NZ style!)

$9


a shot of hot espresso poured over ice-cream with biscotti
Late Night
Try our selection of wines, beers, spirits and mixers
We are fully licensed and BYO wine* (* corkage fee applies)
Afters
Grappa $10 glass, Port or Dessert wines $8 - $10glass
Pure Indulgence - Specialty Coffees

$9


After the show enjoy one of our elegant coffees with a layer of thickened cream and your favourite liqueur – Kahlua, Amaretto, Rum, Galliano, Tia Maria and more. If it's really late, make it a decaf...
Classic Teas
27 varieties of Tleaf tea!$4.5 for one person, $7 deux

black teas in silver or china pots with china cups fruit, herbal and green teas in china pot or Blooming flowers of china white and jasmine
Coffees
Long or short Espresso, Americano

$3.5

Flat white, Macchiato

$4

Cappuccino, Ristretto

$4.2

Latte, Chai latte, Hot Chocolate, Vienna

$4.5

Mochaccino

$4.7

Large glass or bowls add

$1

Iced Chocolate or coffee

$6.5

Add Monin flavour or Decaf

60c, or soy 80c