Evening Menu
Open from 8AM to Late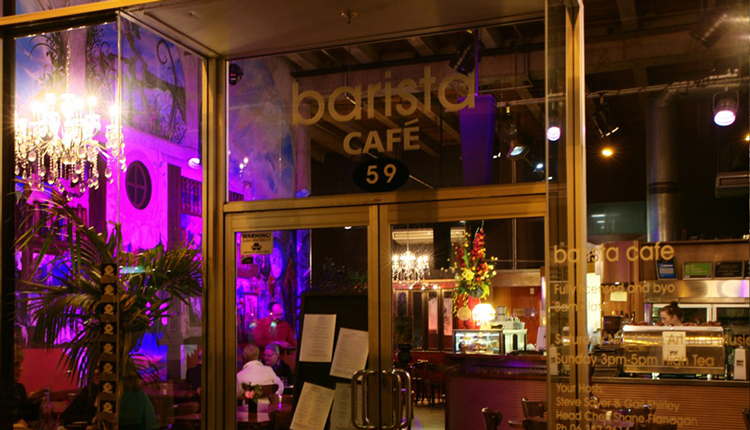 Entrees
Soup for One, or platters to share
Soup of the Day

$15


with toasted bread and butter

(GF)$16

Oven Toasted Pita

$14


with hummus and pesto
Barista Garlic Bread

$13


with roasted garlic butter, mozzarella and herbs

(GF)$14

Warm Olives

$16


With feta and smoked almonds

Baked Camembert

$23


Drizzled with honey, herbs and pistachio
KFC Cauliflower

$22


Korean fried cauliflower with aioli, soy kecap manis sauce, & sesame seeds. Vegan Option Available
Salt & Pepper Prawns

(GF DF) $22.5


Barista's original – keep to yourself or share if you dare!
Mains
*Nourish Salad

$24


Salad greens with feta, cherry tomatoes, toasted seeds, mint, hummus, roasted capsicum & carrot, finished with
a pomegranate dressing
-with Chicken, or Haloumi

$30

*S&P Calamari Salad

(GF)$28


Salt & Pepper Calamari with chorizo, mango, cashews, salad greens, and cherry tomatoes, with a lemon ginger
mayo dressing
Beef Salad

(GF)$30


Marinated beef salad with greens tossed through with blue cheese, walnuts and pear, and finished with a honey dressing
Chicken Salad

(GF DF) $24


with greens, toasted spiced pumpkin seeds, cherry tomatoes, avocado, mangoes and a black vinegar, honey, ginger and sesame dressing
*BBQ chicken linguine

$29 (GF $30)


Chicken breast pieces in a spice rub tossed through with bacon, sun-dried tomatoes & spinach in a cream reduction
*Vegan Bowl

$27


Wild rice, black beans, roasted pumpkin, roasted corn, cashews, coconut bacon, & vegan pesto mayo. With Haloumi or Chicken add $7
Scotch Fillet

(GF) $39


Scotch beef fillet cooked to your liking, served on crispy potatoes, bacon, spinach, red wine jus, and béarnaise
Pan-fried Fish of the Day

$Market Price


Served on kumara gnocchi, with a tomato & capsicum, sauce, finished with a herb crema
Crispy Confit Duck Leg

(GF)$40


and a medium rare duck breast, served with pumpkin puree, duck fat potatoes, wilted spinach & a green ginger wine jus
Side Dishes
Desserts
*Tiramisu

$16.5


Traditional Italian style with coffee sponge fingers, shaved chocolate, mascarpone & cream
Crème Brulée

$16.5


Served with apple fritters and berry sorbet
Sticky Date Pudding

$16.5


Served with caramel sauce, runny cream, and vanilla bean ice-cream
Ice-cream Sundae

$12


Your choice of chocolate, caramel or berry sauce served with marshmallows & whipped cream
Cabinet selection of Cakes, Slices or our famous Baked New York Cheesecake
Affogato (non-alcoholic NZ style!)

$11


a shot of hot espresso poured over ice-cream with biscotti
Late Night
Try our selection of wines, beers, spirits and mixers
We are fully licensed and BYO wine* (* corkage fee applies)
Afters
Grappa $10 glass, Port or Dessert wines $8 - $10glass
Pure Indulgence - Specialty Coffees

$9


After the show enjoy one of our elegant coffees with a layer of thickened cream and your favourite liqueur – Kahlua, Amaretto, Rum, Galliano, Tia Maria and more. If it's really late, make it a decaf...
(GF) = Made with gluten free ingredients in a shared kitchen